Black skirts are such timeless pieces. They are legendary and would perfectly go with anything that you can possibly think of pairing it with.
Let us look at some of the killer outfits you can pull with a black skirt!
Casual Look With A Black Pencil Skirt: Black Skirts
Pair a black midi pencil skirt with a casual tee shirt. Crop top might even work. If your shirt seems a bit too long, try knotting it at the center or the side to make it appear more fitted to your body. Add a black mini bag with gold detailing for a chic appearance.
A pair of ankle length black boots would make the whole outfit look a bit more monochromatic. This is such a trendy outfit that can be worn to almost any place that feels casual. As in malls, shopping, lunches or even to an outing with friends!
An Outfit For Winter With A Stunning Black Pleated Skirts
Pleated skirts are vintage and classic. Put together an outfit with a long black pleated skirt with a beige oversized sweater. Add on a dark brown or of a chocolate toned handbag that is big enough to carry all the things you require for the day. Finally to complete the look, wear a pair of snake printed boots. This outfit can be worn all throughout the winter and sometimes in autumn as well.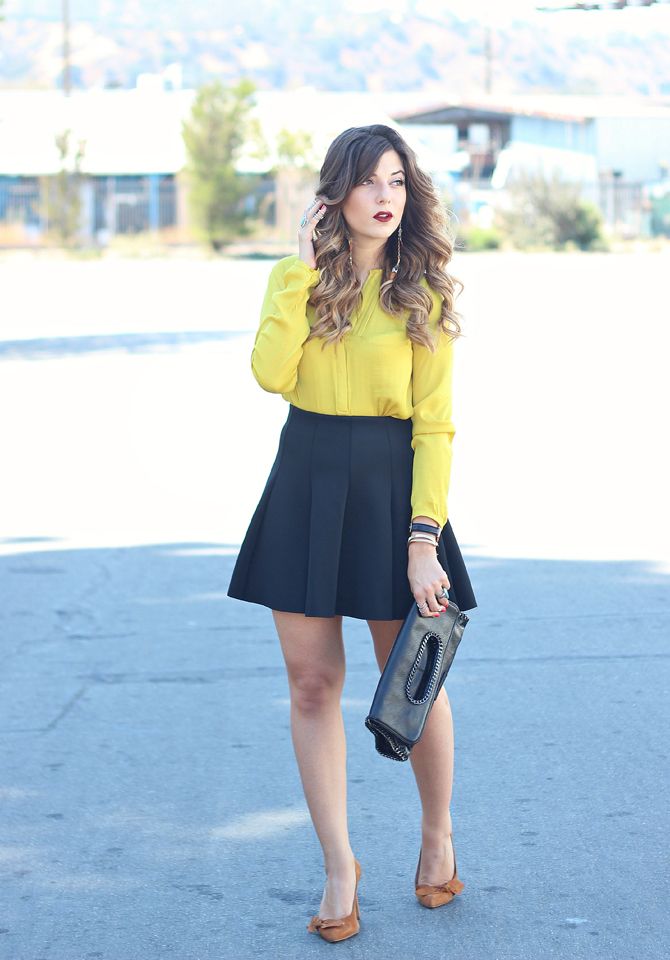 Summer Fashion Essentials Include A Black Skirts
Black skirts can be worn in any season if styled correctly. Wear a black maxi skirt with a slit on the side so as to expose a small part of the leg indicating femininity. Keep the skirt high waisted. Pair the skirt with a white halter crop top. Be careful about the fabric of the white top as sometimes they can be too revealing on the outside and that would not be as flattering as you thought it would be. You can wear the outfit as such or layer it with a light blue shirt to have some color going on. To complete the look, wear a pair of flats and sunglasses to your outfit. This particular look is absolutely great for the heat!
Tight Black Skirt For A Fancy Date Night
Tight skirts are bold and amazing. They give you the perfect silhouette that you are going for. A mini black tight skirt is going to be the perfect choice for your upcoming date night. Now black skirt alone can look a bit boring. To make it a more fancy and night time outfit, wear a lacy black corset crop top to match the skirt. The lace detailing is what gives an outfit a night time vibe. Match the outfit with your mini black bag. As for heels, you know the drill. Do not opt for sneakers for such events. Instead choose feminine high heels for this look. Especially those of black tie on high heels. Make sure you can tie around your ankle comfortably.
Also read: 90s Nail Designs | Drain Gang Aesthetic | Chill Aesthetic