Greta Thunberg is a student from Sweden and a very well known climate activist. Everybody knows her because she is a child who has bought forward the concerns and has raised awareness on Climate Change. The topics on which she talks and gives speeches about are serious. But making memes and taking a laugh has not hurt anybody. For example in one of her speeches she said "How Dare you" and that became a famous catchphrase for meme.
THE IMPACT AND SPREAD OF Greta Thunberg Meme
While climate change is no joke, people actually started listening more to Greta Thunberg as a result of her becoming famous. Yes she was already famous when people found out that a 16 year old kid is skipping school to demonstrate the effects of climate change, but memes have also played a part in making her famous, especially in the younger audience who don't read the newspaper or listen to news. The memes were funny, yes. And when the memes started getting viral, it allowed more audience to know about her and her goal. Eventually she gained more love on the internet than the climate change deniers who hated her.
Her "How dare you" video on YouTube became so viral that it reached 23 thousand views. As people started following her and knowing about her, her Ted talk gained over 1.5 million views on Youtube.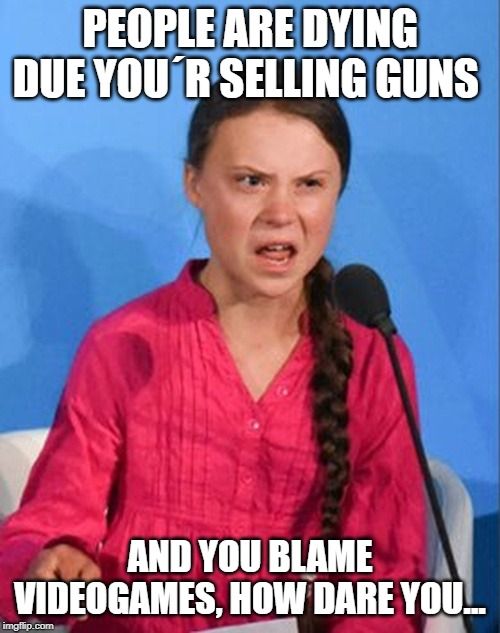 THE BEST AND MOST HILARIOUS Greta Thunberg Meme
Greta making an awkward face : When you hold a fart inside so that you don't leave a carbon footprint.
When you parents turn off your home's wifi : HOW DARE YOU, You stole the dreams of my childhood
When you're trying to warn people of climate change but they start to make memes on you : HOW DARE YOU
A picture of Greta with big biceps : "Excuse me sir, I would like to talk with the CEO of pollution."
Save the planet, or you will Re-greta it.
When your boss asks you to stay late and work on the weekends : HOW DARE YOU.
A picture of sad Greta : "When Coronavirus steals your spotlight."
A picture of Donald Trump vs Greta : There is child who knows nothing about science and should go to school before talking about climate change. The other person is Greta Thunberg.
CO2 levels drop suddenly as the COVID spreads : *Greta smiling*
When someone calls you a retard for making memes on Greta Thunberg : HOW DARE YOU.
WHY ARE MEMES IMPORTANT?
Memes are a way of sharing cultural information with the different people. Memes allow us to connect and spread joy. If memes wouldn't exist then we wouldn't have got such easy to digest information. The best way to learn new information and be up to date with the world is boring when we have to read long paragraphs, memes make learning and sharing information a fun process. The benefit of making and sharing memes are endless : you get your recognition for the ideas you use to generate memes, plus you communicate with your friends & family and share easily understandable information. This kind of shareability often relaxes people.
Also Read: Gi Jane Memes |  Yoga Meme |  Trippy Dark Aesthetic Wallpaper